February 28, 1953 - February 1, 2019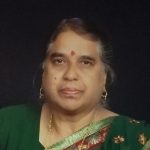 Funeral Service
10:00 am  Wednesday February 7, 2019
Chapel of
Omega Funeral & Cremation Service
Portland, Oregon  97233
(Between E. Burnside & SE Stark Sts.)
Moon (Sagra Wati Singh) went home to be with her lord and savior, February 1st, 2019. She was born February 28th, 1953 in Suva Fiji Islands, daughter of Charanji Lal and Chandra Wati.
Munni enjoyed being a cherished mother, wife and Amma (Grandma). She grow up in Fiji before moving to Portland, OR in 1983 with her husband and five children. She was a member of Remember the Hope Christian Fellowship.
She is survived by 3 daughters, Jotika SIngh & family, Ashika Bhan & family, Swastika Singh & Family. Also survived by 2 sons, Avinay Singh & family, Vinay Singh & family. She leaves behind her lovely husband of fifty years Vijay Singh. She was a Beloved sister to Genda Chand & family, and the late kusma Deo & Family and followed by battan family. Sagra Singh was the proud Amma to the following grandkids: Erica, Sharon, Sharleen, Shayal, Sonia, Divesh, Rohan, Rahul Roshawn and our babygirl Ashten.