March 1, 1925 - August 21, 2019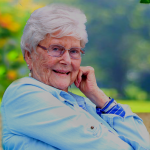 Burial Date September 21, 2019
Memorial Service
Noon ~ 4:00 pm Saturday September 21, 2019
2037 Douglas Street
Forest Grove, Oregon  97116
Genevieve "Gen" (Anderson) Phelps was born the youngest of seven children on March 1, 1925, in Bemidji, Minnesota to Richard & Bertha Anderson. Following her high school graduation in 1942 she attended business school. In 1944 she moved with her parents to Forest Grove, OR, following other members of their family. Her first job in Oregon was at the Kaiser Shipyards in Portland followed by being a bookkeeper and clerk for a grocery store and dry cleaners in Forest Grove.
She met Melvin George Phelps in 1945 at a VFW dance in Forest Grove. He was smitten on the spot and with the end of WWII he came home to her. On June 14, 1947 she united in marriage to Mel at his grandparents' home. They lived their lives in Forest Grove where they raised a family. Their first home together was on 21st Ave and Elm St. and was built by Mel's hands for his new bride. Melvin also built the house at 1506 Main St., where they would reside together for most of their marriage and raise their three sons. Gen was a devoted wife and mother and she made a wonderful home and took care of all of her boys well.
Her cooking was something the entire family would rave about. Second to none were her pies served at every family holiday. Gen's pastimes included bowling on a league, going to the beach (especially Cannon Beach), and taking fishing trips with Mel. She and Melvin would head to the Hells Canyon area to go fishing at least once a year. Her real passion was traveling. She visited many of the U.S. states by car and went on cruises to Alaska, The Panama Canal, the Mediterranean and the Caribbean. She and Melvin would go to Palm Springs, California nearly every March and vacation for an extended period of time. Often their children and grandchildren would join them for a portion of the trip.
Genevieve died on August 21, 2019, at the Jennings-McCall Center where she had been living since 2015, at the age of 94.
Gen is preceded in death by her devoted husband Melvin, on June 4, 2005.
Genevieve is survived by her sons; Mark (Teresa) of Springfield, Ryan (Lisa) of The Dalles and Erin (Kathy) of Portland. She is also survived by 5 grandchildren; Samara Phelps, Courtney Morich (Jason), Jessica Humphreys (Sam), Ross Phelps, Chelsea Phelps, and by 4 great-grandchildren, Jackson Morich, Cora Morich, Josephine Morich, and Cooper Humphreys. Gen is also survived by many nieces, nephews and cousins.