May 4, 1916 - April 8, 2017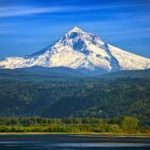 A memorial service will be held at Tanner Spring A.L.F, 23000 Horizon Dr. West Linn, Oregon 97068 on April 15, 2017 at 1:00PM.
Vada Miller Markt, born in Holyoke Colorado on May 4, 1916, died peacefully on April 8, 2017 in West Linn, Oregon. Vada's husband of 66 years, William D. Markt preceded her in death.
Vada's family farmed as did most of her relatives. Farming fosters a strong work ethic and she put that to good use her whole life. She was afflicted with nephritis as a preteen but made a complete recovery with the help of a homeopathic doctor.  In those years few people survived the disease. She went on to graduate from high school in 1934 with excellent grades.
She worked on the farm and for the local newspaper until she and Bill met at a community ballroom dance. They courted a couple of years and then moved to Los Angeles after being married on July 5, 1937.
She went to Business College and subsequently got jobs working for executives at a number of large national corporations. One of those was Douglas Aircraft where her husband also found work until he retired. Vada had one child Bill/Billy. She was involved in PTA and volunteered at her son's school. Vada went back to work in the mid 1960s. The family went to church regularly and Vada spent a few years as the church secretary. She retired in 1978 with her husband after 12 years of administrative work for the Los Angeles Fire Dept.
Through all this, Vada's recreational passion was dancing. She and Bill square danced and ballroom danced their whole adult lives. They enjoyed going to hear music and had season tickets to local musical companies. They spent endless hours in maintaining their yard. After Vada's Mom passed away in 1988, they moved to West Linn in 1991 to be closer to their son and family. In her mid 70's the pair left a very extensive social and recreational network to move to Oregon where they knew virtually no one but immediate family. The friends they made at their athletic club in their neighborhood and through square dance affiliations filled Vada's and Bill's life to the brim. Vada lost most of her eye sight over the course of a month due to macular degeneration in the late 1990s. That, coupled with limitations of her hearing, made life more difficult. She continued to pursue all of her activities, adapting as best she could to her limitations, often with the help of friends.
It was very difficult for Vada to lose her husband in 2004. She was his caregiver during his brief decline. She had never lived by herself, having moved from her parent's house to live with Bill. She adapted well to living alone in no small part because of the support neighbors continued to provide. Vada recommitted herself to the gym, square and ballroom dancing, attending local musical theater and Portland Symphony Pops concerts. She moved into Tanner Spring Assisted Living Facility in the fall of 2011 and came to the Memory Care Unit in mid 2013. She would tell you, if asked, that her inability to continue dancing left a bigger hole in her life than her limitations of sight and hearing.
She is survived by a son, daughter-in-law, four grandchildren and 3 great grand children. She brought vitality to life valued by all who knew her.