December 11, 1949 - October 13, 2017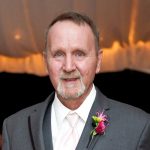 Celebration of Life Service
2:00 pm Saturday October 28, 2017
Westminster Presbyterian Church
1624 NE Hancock St.
Portland, Oregon 97212
Driving Directions
Stephen (Steve) E. Soule, age 67, of Beaverton, Oregon, passed away on Friday, October 13 at St. Vincent Hospital in Portland, surrounded by his family.
He was raised in Northeast Portland, graduated from Grant High School and attended Portland State before joining the National Guard. Early on, he managed two popular bars in Portland. Steve then sold real estate for many years and, later in life, drove school buses for Beaverton Schools.
He is survived by his wife, Diane; siblings, Patricia Zimmerman, Douglas, Michael and Kirk; daughters, Erin Longmate and husband Paul; Rachel Anaya and husband Roland; and grandsons, Lucas Longmate, Blake Longmate and Cameron Anaya.
Stephen is preceded in death by his parents, James F. Soule and Dorothy B. Soule; as well as his older brother James F. Soule Jr.
Stephen wore many hats during his short time on this earth. And he played each of these roles with gusto.
Steve was the fourth child in a pack of six kids. Consequently, he learned early on how to maneuver through the herd and get the attention of his busy mom, Dorothy, who would quickly cave in to his chubby cheeks, broad smile and the ever-present twinkle in his eyes. Eventually he lost the "pinchable" façe but smartly kept his infectious smile and twinkling eyes – talents that, along with his larger-than-life personality, humor and story-telling ability, attracted woman — and men — to him throughout his life.
As a brother, Steve learned to hold his own with his older siblings — Jimmy, Patty, and Doug.  He was a quick study and developed a healthy competitive style. (It didn't hurt that he had an uncanny hand-eye coordination skill!) He soon out-shined the older kids in all sports and card games, eventually becoming the family ping-pong champion and Bridge and Cribbage player, titles he never lost. As the older brother to Michael and Kirk, he helped them learn these various skills and always looked out for them as well. (His younger brothers would get spotted 18 points in Ping-Pong and still never win a game!)
Steve's love of sports – and his natural ability — led him to play baseball in his youth. He was part of the Little League All-Star team that went to the State finals one year. As a dad, he coached his two daughters when they were starting out in sports and later kept the clock during high school football games and umpired the girls' softball league for many years.
As a friend, Stephen was always the life of the party. In high school, he kept his classmates in stitches when they should have been learning biology, for example. As a bartender and tavern manager during his early career, he entertained his patrons with his wit and winning personality.
As a husband, Steve lucked out. He fell in love with an angel named Iva Diane whom he married in 1982.  They soon had two beautiful daughters, Erin Michelle born in 1985, and Rachel Elizabeth born in 1988. They raised the girls in Beaverton, went on many road trips as a family and spent summers in Black Butte with close friends and family.  Stephen was the type of father who encouraged his girls to find their paths and follow their talents. As a result, today Erin and Rachel are successful college graduates, professional women, wives and mothers.
Although he suffered various illnesses during the last decade of his life, Stephen never lost his love of life, his feisty and spunky personality and unwavering loyalty to his family and friends.
Stephen will be greatly missed.
A celebration of Stephen's life will take place at 2 p.m., Saturday, Oct. 28, 2017, at Westminster Presbyterian Church in N.E. Portland.
In lieu of flowers, donations may be made to the American Diabetes Association. A donation has been made to the Southridge High School Athletic Department by his family, in his honor.