June 26, 1937 - April 15, 2018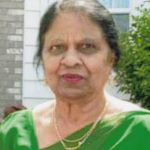 Burial Date April 19, 2018
Funeral Service
11:00 am  Thursday April 19, 2018
Chapel of
Omega Funeral & Cremation Service
223 SE 122nd Avenue
Portland, Oregon  97233
Satya Wati Chand was born June 26, 1937 in Vuci Nausori, Fiji Islands in a family consisting of 8 members (three brothers and 5 sisters). She was married to Mr. Dip Chand Dass for 60 years and was the matriarch of her loving family. She migrated to America in February 1980 and resided in Portland, Oregon. 
She will be survived by her six children (Tarana, Shakila, Suresh, Mukesh, Shelly, and Rita),  11 grandchildren (Venay, Rajina, Ajay, Rashika, Chrishneel, Nikita, Neil, Sheena, Ashley, Sanjay, and Shelvin), and four great grandchildren ( Jayden, Jaylen, Sitara, Drako). 
Satya enjoyed being with her family. She loved talking with her children and grandchildren and hearing about their lives, dreams, and aspirations. She provided strength encouragement, wisdom, and laughter for all of her loved ones. She will forever remain in our hearts.
May her soul Rest In Peace.