August 15, 1927 - February 26, 2017
Roger Newhall, a Portland resident for most of his life, passed away at his Apartment home in the
Courtyard at Mt. Tabor Assisted Living Facility Sunday February 26th, 2017. His ashes will be inurned at
Pine Grove Butte Cemetery, Hood River Valley, Oregon in the same plot as his parents. He was born in
Portland, OR to Roger Newhall, Sr. and Ann Nichols Newhall. He had one younger brother, Kent, who
died at two months old in 1932. Randy Labbe and Tim Kerr of Portland, OR, Josephine Lowe of
Ketchum, ID, Glen Bomstad of Eugene, OR, Carol Barney of Suburban, MD, as well as the daughter of
his late cousin Emily Dunn, Ms. Adriana Dunn of Norwood, MA, all survive him.
After attending The Gabel School he spent one year at Lincoln High then departed Portland for The
Phillips Academy (Andover) boarding school in Massachusetts in January 1943. The Dean and teachers
praised him for adapting so well entering mid year and then making honor roll every term until he
graduated in 1945. He then enrolled at Harvard and after one semester enlisted in the Army in 1946.
He was a Classification Specialist, Clerk and Typist stationed at Fort Belvoir, VA. Honorably Discharged
in 1947 he enrolled at Reed College focusing on music history until 1949 when his father passed away at
age sixty-one.
He became exposed to and interested in classical music, opera and theatre as a toddler, through his
mother Ann. At the age of nine he received his first electric phonograph and classical record,
Tchaikovsky's 'The Nutcracker Suite'. This started a lifelong passion for collecting, listening to, and
writing about classical music and opera so in 1950 he opened his own record store, Music On Records,
in Portland. In 1954 he closed up shop and engaged in more education at Reed College. In 1955 Roger
moved to New York City where he was employed by RCA records, Sam Goody, Continental Records
and finally Music Masters. In addition to writing about music and recordings he took an interest in writing
about NYC area Karate champions. He frequented countless concerts, operas, theatre, museums, and
made long vacations to Europe. He spent every August in Portland then eventually moved back in 1985
to live with and care for his mother whom he considered "the one true love" in his life.
Roger Newhall, Jr. was an eloquent speaker with a vast command of the English language. While being
uniquely eccentric, he was a true gentleman in dress and manner, often refusing to let anyone open a
door for him. Taking refuge in his collection of recordings, art and books, he was preferably reclusive at
times but equally enjoyed planning luncheons, dinners or concerts with family and friends, or generously
delivering a gift to brighten someone's day. Roger's kind neighbors added to his happiness, health and
safety. He championed the people he cared about and was a mentor and supporter of those he knew
with musical aspirations, including the children of his former neighbors, Don and Lori Top, and long time
friends, Kurt and Beth Raimer, who were honored and grateful to care for and spend so much quality
time with him during his last decade and final days of life. He was very fond of all animals and grew up
with dogs, but in the second part of his life was close to a few cats that either lived with him or stopped
by to be fed at his home. From an early age and throughout his life Roger enjoyed recreational outings
and drives to the beach and through the Columbia River Gorge to Hood River Valley, where his fondest
memories involved spending time with and confiding in family and friends at the Ranch House of his
relatives. As recent as August of 2016 Roger visited there, and now a last request will be honored when
his ashes are laid to rest in the shadow of Mt. Hood, at the most beautiful cemetery in the valley.
TO MUSIC
O kindly Art, in how many a grey hour when I am caught in life's unruly round,
have you fired my heart with ardent love and borne me to a better world!
Often, has a sigh from your harp, a chord, sweet and holy, from you,
opened for me a heaven of better times; O kindly Art, for that I thank you!
English translation of lyrics by Franz Schober to Song by Franz Schubert
Recommended recordings: Dietrich Fischer-Dieskau or Fritz Wunderlich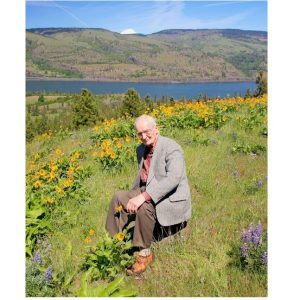 East of Mosier, Oregon, May 2014 (a favorite spot of Roger's)