March 30, 1951 - April 24, 2018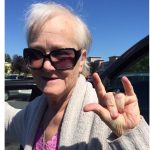 Celebration of Life
2:00 ~ 4:00 pm  Saturday May 5, 2018
Larry & Lola's Home
2138 SE 130th Avenue
Portland, Oregon  97233
Lola Irene Case,67, of Portland, OR passed away in the early mornings hours on April 24th 2018, due to natural causes.
Lola was born in Portland, OR on March 30th 1951, to Kenneth and Donna Baker. She was the second youngest of nine children.  She graduated from David Douglas High School in 1969.
Lola married her high school sweetheart, Larry Case, on June 1st 1973. They were married for 34 years.
After the births of her two children, she chose to be a homemaker to be with her children. Soon after, she started her own in home daycare for more than 25 years, having an impact on over 100 children.
Her pride and joy was her own four grandchildren that she had a major hand in helping raise. She enjoyed the outdoors, exploring new restaurants, and going for drives with her husband.
Lola is survived by her husband, Larry Case, her two children, Connie Case, and Brian Case. her four grandchildren Greyson, Clay, Lexi and Arianna.  Three sisters Margret Hall, Grace Faris, and Edna Todd. Numerous nieces and nephews and the rest of her extended family and friends.
Lola is proceeded in death by her parents ,Kenneth and Donna Baker, as well as her brothers Richard Baker,  Keith Baker, and sisters Mary Jean Martins, Joan Marie Stamper, and Kathleen Ford.
The family of Lola Case would like to thank the staff of Portland Adventist and the hospice, along with Omega for all there caring support staff.