August 5, 1925 - November 13, 2017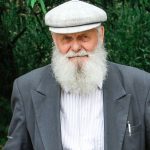 PRAYER SERVICE
7:00 pm  Monday  November 20, 2017
Emmanuel Slavic Church
2025 SE 82nd Avenue
Portland, Oregon  97216
https://goo.gl/maps/MAkYY8VjKZ32
FUNERAL SERVICE
10:00 am  Tuesday  November 21, 2017
Emmanuel Slavic Church
2025 SE 82nd Avenue
Portland, Oregon  97216
https://goo.gl/maps/MAkYY8VjKZ32
COMMITTAL & INTERMENT
Lincoln Memorial Park
11801 SE Mt Scott Blvd
Happy Valley, OR 97086
It is with great sadness that we announce the death of Ivan Lukyanovich Misiuk, age 92, passed away on November 13, 2017 in Portland, OR.
Born in the small village of Dobryanka, Amurskaya Oblast' Russia  on August 5, 1925 to the parents of Lukyan Iosevich and Fedora Misiuk.
His wife, Afanasia Kirilevna Misiuk was predeceased by her husband by 6 years. Together they celebrated 60 years of marriage.
Ivan is survived by his 11 children and their spouses, Anatoly, Natalya, Victor, Alexander, Tatyana, Anna, Vasily, Ivan, Pavel, Elena and Irina, 63 grandchildren and 82 (and counting) great grandchildren.
In 1942, at the age of 17, Ivan was enlisted in the Russian army. He served for a total of 8 years, 5 of which was in Japan. Immediately after the army, Ivan became a geologist. Some of his other careers include truck operation and tractor machinist.
In 1975, Ivan moved his wife and their 11 children from Eastern Russian to Mariupol, Ukraine. After retiring in 1989, he and his entire family immigrated to the United States.
Ivan will most be remembered for giving his life to Jesus Christ and becoming a believer at the age of 40. His faith would change the course of history, leaving a legacy of hope and blessings for many generations. Ivan was the light of the family and had a Jesus like character, gentle yet stern, loving yet full of truth. He never regretted a day that he served the Lord. Because of Ivans' and Afanasias firm faith and prayers, all their descendants are blessed. He will be missed by many.
Well done, good and faithful servant! You have fought the good fight, finished the race and kept the faith!